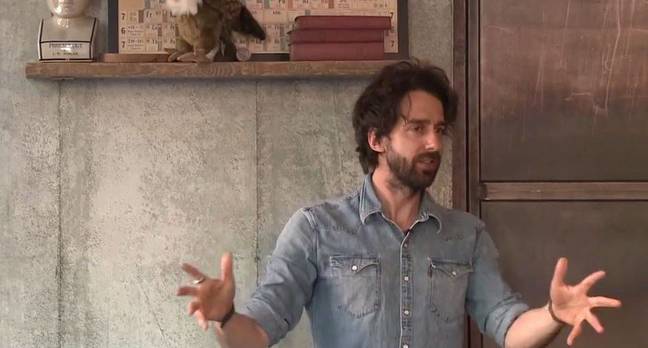 Society is changing before our eyes, and whether you think revolutionaries or robots are to blame, technology is often at the heart of the matter.
So, you'll be pleased to know we've got two fantastic speakers lined up in the UK in April and May who can explain exactly who and what are driving these fascinating changes.
Dr Kate Devlin: Sex, AI, Robots and You
On April 19 - yes, that's next week - we have Dr Kate Devlin, of Goldsmiths University, who'll be discussing: Sex, AI, Robots and You.
Kate is one of the UK's foremost experts on human sexuality and technology, co-Chair of the widely reported Love and Sex with Robots conference in 2016, and organiser of the UK's first sextech hackathon.
Kate will be talking us through the history of sex and tech - which stretches back further than you'd think - before explaining where AI and robotics and sex and love meet today, and where they're going. Along the way we'll be examining the ethical and social implications of a world where human computer interaction moves way beyond the mouse and keyboard. You'll laugh, you'll cry, and you might, occasionally, squirm in your chair.
Jamie Bartlett: The tech-powered radicals remaking your society
If you're wondering how humans might change the future, you'll want to join us on May 23, when Jamie Bartlett - author of the Dark Net - will talk about the movements and people central to his upcoming book Radicals.
Jamie spent two years embedded with a wide spectrum of individuals, groups and movements who reject the way we live now, and are attempting to find alternatives - invariably with technology playing a substantial role. We're talking the likes of the US Transhumanist Party, far-right groups, militant environmentalists, libertarian movements founding new countries, autonomous cooperatives in self-sustaining micro-societies, and psychedelic pioneers attempting to heal society with the help of powerful hallucinogens.
Both speakers will be drawing vivid pictures of where society is heading, and how technology is helping it get there. We really hope you'll join us at the Yorkshire Grey on Theobalds Road, London on April 19 and May 23.
The doors will be open from 6pm, with the talk proper kicking off at 7pm. And yes, there'll be refreshments, both liquid and solid, on hand.
And if you need reminding what a compelling speaker Jamie is, you can check out his last Reg lecture, when he discussed the Dark Net. ®
---